Yorkin

JIG-BRIX™

: Underground Chambers made easy
easy to use
|
versatile
|
flexible
|
durable
---
The JIG-BRIX™ system is a unique high-quality plastic interlocking building brick, that can be used for creating structures of many types and sizes. It attaches to adjacent units vertically and horizontally, without the use of metal clips or screws, and has an efficient clip retaining system that enables good location of ironwork, which eliminates movement between components. Its dovetailed outer profile gives excellent anchorage into the backfill.
JIG-BRIX™ applications include:
Utilities
Road carriageways
Exhibitions stands
Footpaths

Greenhouse staging
Mining and other hazardous situations
Temporary structures
Customised to your requirements, either assembled to order or bricks by the pallet.
---
Good for the environment: the JIG-BRIX™ system is manufactured from high-quality, first-generation recycled monopolymer. It can be reused many times, and at the end of its life is 100% recyclable.
---
How does it work?
The JIG-BRIX™ system is strong but lightweight – less than a third of the weight of comparable traditional materials; so light, in fact, that one person can easily carry several built-up sections.
It is reusable, recyclable, strong, non-porous and has excellent thermal insulation qualities, but unlike traditional building materials, it will not flake, due to frost action or excess salt. It is impervious to all common acids, alkalis and solvents, yet it accepted by WRC for contact with potable water.
It is easy to assemble, even in wet or frosty conditions.
All this, yet it requires no training to use – only a strong arm and a rubber mallet.
---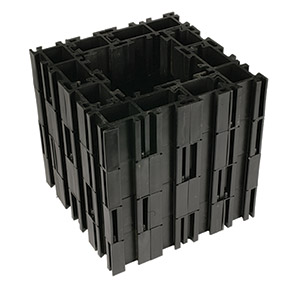 The
JIG-BRIX™

system can be customised.

JIG-BRIX™ are available in full bricks, vertical half bricks and horizontal half bricks, plus all associated smaller fittings, and can be produced in any colour.

Orders can be delivered as bricks by the pallet, or supplied as built-up sections.

Complete chambers can be supplied in any size.
---
What can JIG-BRIX™ be used for?
The flexibility, durability and ease of assembly of JIG-BRIX™ sections means they can be used for constructing any type and size of chamber. They are ideal for both maintenance and new installations, and can be the answer to many construction problems. They can also be used to raise ironworks.
Designed as a replacement for concrete sections in the building of chambers for the water industry, the JIG-BRIX™ system is now employed in diverse uses, ranging from walls and guttering the garden, to chambers in the carriageway, where continuous pounding of heavy traffic is a problem when conventional materials are used.
Its lightweight construction, combined with the speed and ease with which JIG-BRIX™ can be used, proves invaluable in situations where it is expensive to employ skilled labour, in wet conditions or where transportation is costly.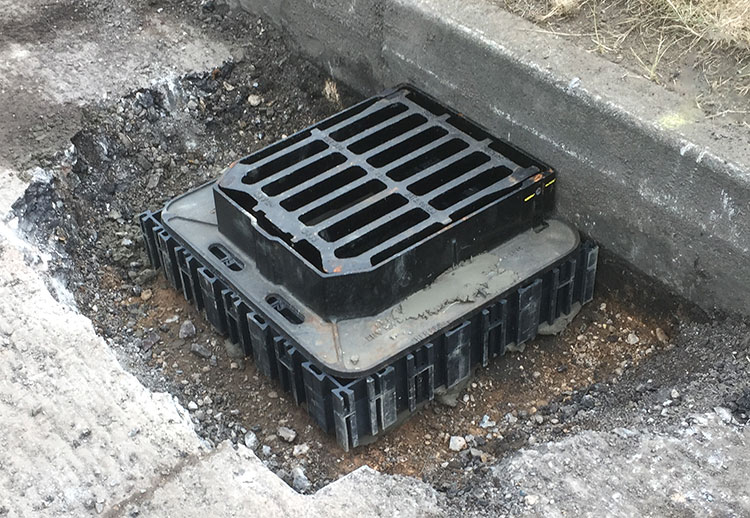 ---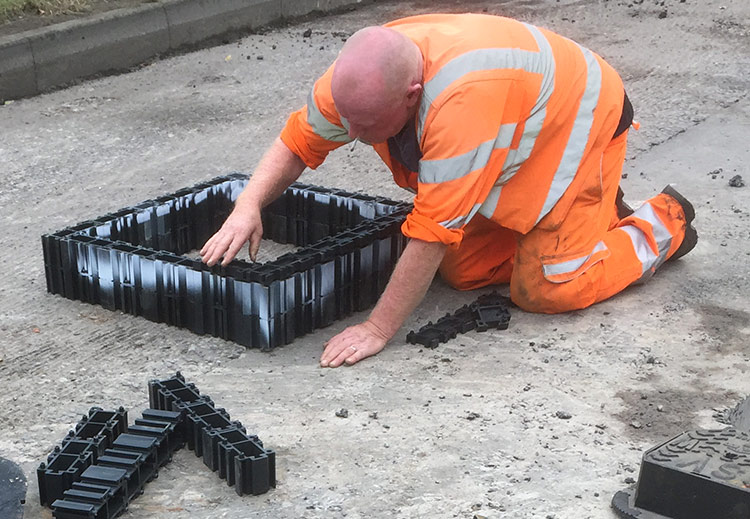 The
JIG-BRIX™

system is cost-effective

The JIG-BRIX™ system is tough and won't break in transit, so whatever is ordered will be delivered intact: no costly delays while materials are reordered before the project can begin.

Because the JIG-BRIX™ system is so flexible, there is no waste. All sections can simply be adjusted on site.

It is easy to use so there is no need for expensive specialist equipment, or lengthy, costly staff training. It offers excellent whole-of-life cost too. There have been inexcess of three million JIG-BRIX™ sections sold to date and not one has required remedial work.

The JIG-BRIX™ system is designed to deflect with the natural movement in the carriageway, ensuring greater lifespan than conventional chamber constructions; and because it is easy to work with, jobs take less time – which can mean significantly reduced road closure times.
---
TECHNICAL INFORMATION
Produced in high-density polypropylene with a Vicat softening temperature of 151.1°C
Complies with the EEC directive on one-person manual handline
Meets class A loading requirements of BS 5834 and D400 of EN 124
Complies with Best Practice Policy
Withstands temperatures from -40°C to +120°C
Resistant to hot rolled road surfacing materials, salt, oil & all chemicals found in a highway environment.
Tested by Nottingham University see report: Mechanical Performance of Road Iron work / pavement Systems, Sept 2002
JIG-BRIX™ are used by:
National Grid
Tarmac
Birmingham City Council
Scottish Water
Cardiff City Council
Bear Consortium
---
JIG-BRIX™ Testimonials
Jigbrix a brilliant and easy to use product, as strong as anything else you can use and the fact it comes in lots of different sizes is a bonus.
Our suppliers are efficient and are always on hand to offer some advice if its needed, we can generally collect a mixed pallet of brix the same day.
Excellent service and product keep up the good work!
We have been using Yorkin Associates Jig Brix in large quantities for more than 5 years.
The Jig Brix are a high quality product that are very easy to install and store.
The Team at Yorkin are helpful and knowledgeable and we would highly recommend them!
We are a small family business that has been using Jig Brix for over 15 years now and they are an invaluable asset to our business. We couldn't
imagine how we would get by without them.
The jig brix offer a solution to failing ironwork due to their unique design and strength and are very user friendly.
We would highly recommended them and the company is very helpful, reliable and obliging.